Version: 1.0
Last revised date: 8/20/2000
Features:
Small footprint: jar file size = 6k
A user friendly editor
Windows and Unix platforms
Possible Usages:
Topic of Contents
Product Catelogs
Online Bookmarks
Online Address Book
Try:
This applet is not generalized for public download now. Please check this page later or contact us if you want us to customize it for you.
Order:
This applet is not ready for sale.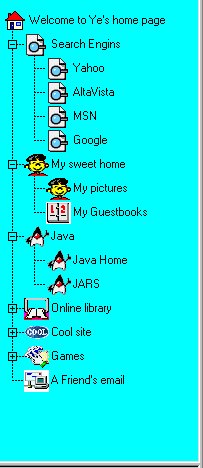 NetTree offers a sleek interface for professional web sites. The intuitive tree interface offers an ease of use and instant access to all the services provided by the web site.

The image on the right side is a snapshot of an online tree created using NetTree. Click here to try to build your own tree on our website.